ECC EVENTS » Category » Fundraiser
Holiday Benefit Concert
December 20, 2014
Awkward Family Pet Photos Fundraiser
December 15, 2013
XXX for Animals Fundraising Auction
September 18, 2013
Vegan Drinks Benefit for VINE Sanctuary
May 30, 2013
Thursday May 30
7-10 PM
Fontana's Bar
105 Eldridge Street (LES)
Party for Good Cinco de Mayo Fundraiser
May 2, 2013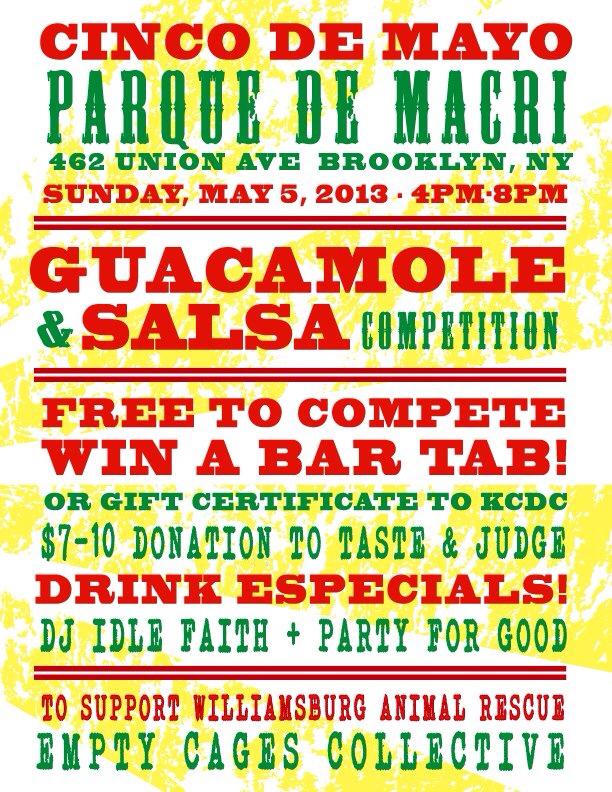 Parque de Macri
461 Union Avenue
Brooklyn, NY
4 PM-8 PM
Adoption Event at Gristle Tattoos
October 6, 2012
Come visit Empty Cages at
Gristle Tattoo
on Saturday, October 6 from 12-5! Cats, dogs, rats and mice will all be available for adoption at 178 N. 8th Street, Brooklyn NY 11211
Punk Rock Karaoke Benefit for Empty Cages
August 25, 2012
Join us as Punk Rock Karaoke brings out their collection of one-of-a-kind punk rock songs. Support Empty Cages while you sing or scream out your favorite deep tracks, or just sit back and secretly record your friends.Saturday, August 25th 10 PM -2 AMFontana's 105 Eldridge St.New York, NY 10002
Vegan Bake Sale and Adoption Event
July 7, 2012
Enjoy yummy treats for a great cause and make a lifelong friend at the Vegan Bake Sale & Adoption event at NYCPet--241 Bedford Ave (between 3rd and 4th Street) Brooklyn NY 11211. 10 AM-2 PM; all proceeds benefit ECC.

Adoption Event--Find a Friend at Gristle Tattoos
June 10, 2012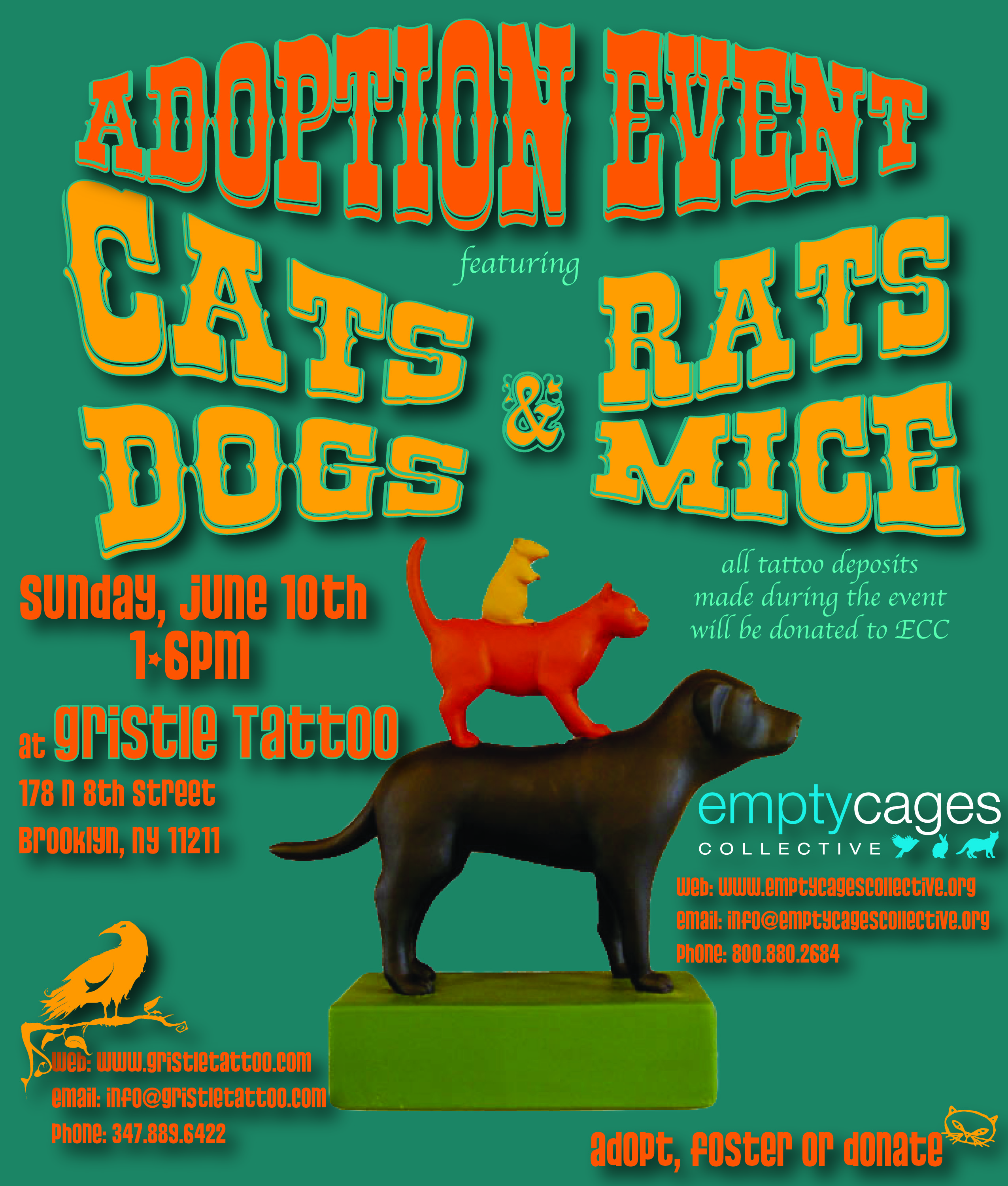 Come visit Empty Cages at Gristle Tattoo (http://www.gristletattoo.com/) on Sunday, June 10th from 1pm - 6pm! Cats, dogs, rats and mice will all be available for adoption at 178 N. 8th Street, Brooklyn NY 11211
Old Skool Punk Rock Fundraiser
April 21, 2012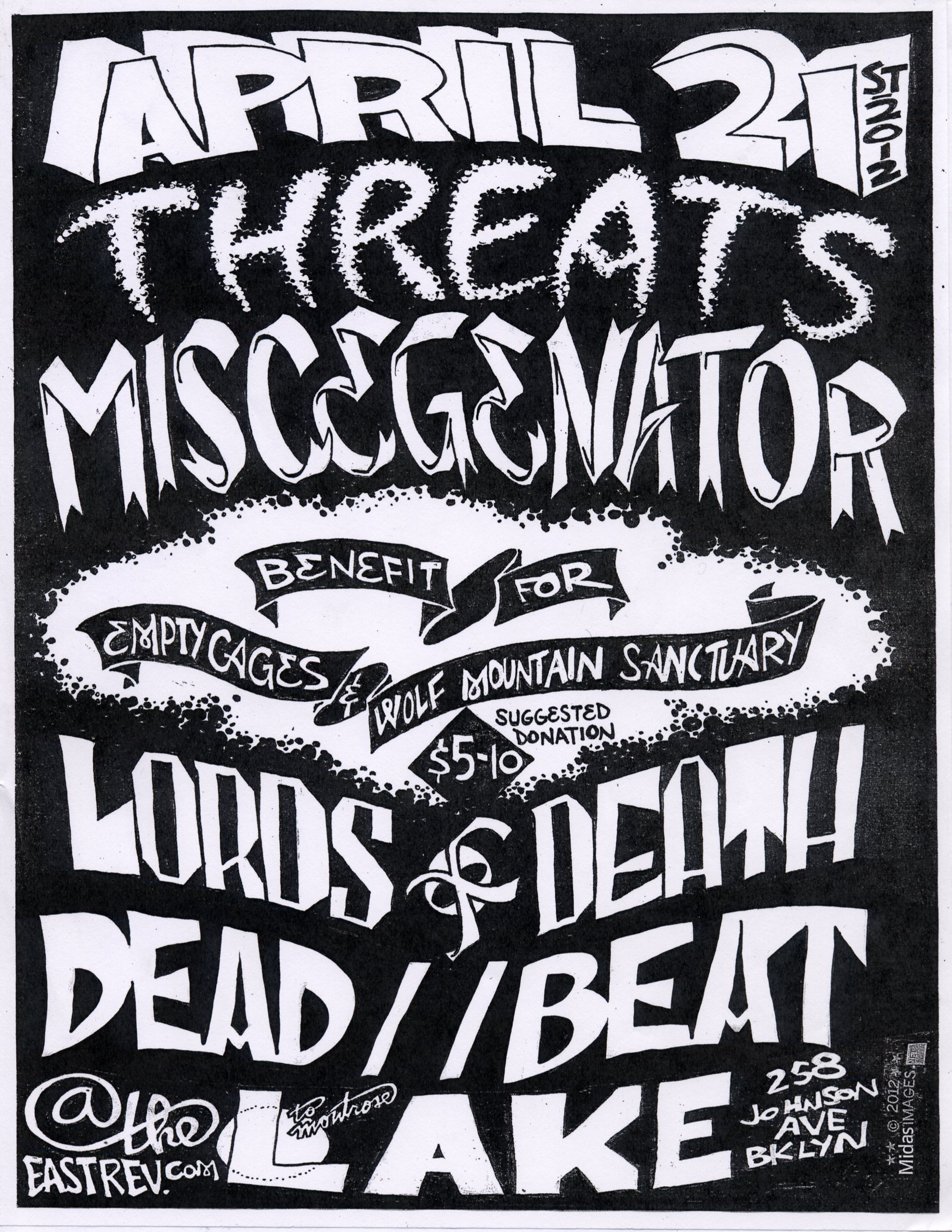 Gotham Comedy Club Fundraiser for Empty Cages
April 18, 2012
Stand-ups for Change
Gotham Comedy Club
208 West 23rd Street, NYC
Wed. April 18th, 8 PM
Fundraiser for Empty Cages

Manhattan Tribal Belly Dance Fundraiser!
November 7, 2010
A portion of ticket sales will be donated to Empty Cages Collective! Please come out to a great show and support our animal rescue efforts. Can't make the show? Donate while here at our site!
Cafe Blossom Fundraiser Tuesday!
November 2, 2010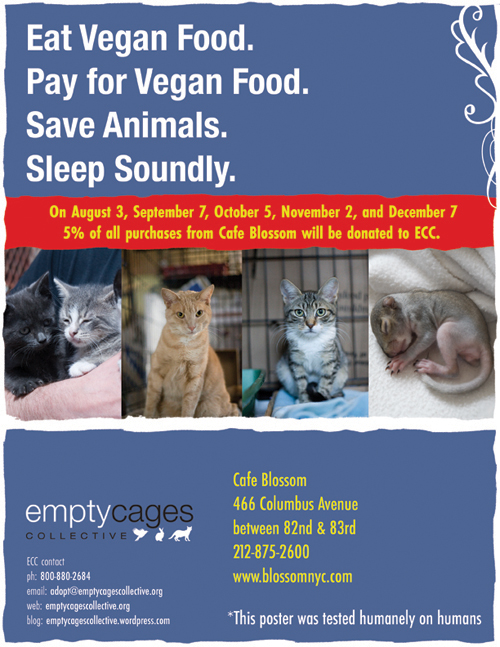 Please join us for some delicious vegan food on Tuesday, November 2 at Cafe Blossom! 5% of sales will be donated directly to ECC, and put to use on vet bills and food/supplies. Every little bit helps, so if you can't make it to the Cafe Blossom, please donate while here on our site!
Support ECC - Eat Something!
May 18, 2010
Benefit Concert for Empty Cages
July 22, 2009
What Is the Worldwide Vegan Bake Sale?
June 27, 2009
On June 20 through June 28 (two weekends and the weekdays in between), groups from across the world will hold vegan bake sales. Each participating group gets to choose its venue, what to sell, and how it uses the proceeds. The Empty Cages Collective is having a bake sale as part of our ongoing participation in
Williamsburg Walks
on June 27, from Noon to 6pm on Bedford Avenue between 7th and 8th Street. Please support us by stopping by our booth at Williamsburg Walks and picking up some vegan goodies!
NOTE: The June 20th Williamsburg Walks Event and Vegan Bakesale has been cancelled due to expected thunderstorms!
RockStar Bar Benefit
April 11, 2009
Wythe Ave. Graffiti Rat - photo R.S. Guskind
Anjelica is a former lab rat and an ECC alumni. Her person Matt Dallow recently emailed us about this
RockStar Bar
benefit Saturday where he'll be making a guest appearance with Nathan Carpenter. Great line-up, reasonable cover, with proceeds going to Empty Cages Collective. Help the animals, and help yourself to a diverse collection of punk rock and acoustic acts!
Here's the info:
Saturday, April 11th at
The RockStar Bar
, corner of South 5th and Kent in Williamsburg.
Doors open at 9pm.
$5-10 sliding scale, 21+ with ID.
Performers include:
Nathan Carpenter
,
Morgan O'Cane
,
Sturgeon
,
Zhenia Golov
,
Hipster Holocaust
, and
DJ Marvelous Hagler
.
And, it's also Janine (sometime ECC volunteer) and Spencer's birthdays!
back to EVENTS